Dugi's Leveling Guide – Reviewed!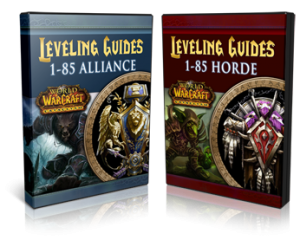 I recently had the chance to check out Dugi's Leveling Guide V4, updated for WoW Cataclysm. This guide has been around for 2005 and was recently updated for Cataclysm. It's one of the most popular WoW leveling guides available.
Of course, there are pros and cons with every leveling guide system. So is Dugi's leveling guide worth getting?
What is Dugi's Leveling Guide?
Dugi's Leveling Guide, also known as the Dugi's Ultimate WoW Guide, is an in-game addon which holds your hand and guides you fully though the 1-85 leveling process. It has been around since classic WoW way back in 2005.
It tells you which quests to pick up, where to go, and what to do to reach 85 as fast and efficiently as possible. The Dugi's leveling guide team has optimized the leveling path for each race, so you can be sure that you're taking the fastest route to level 85.
Most players take an average of 12- 20+ days to level all the way from 1 to 85. WoW leveling guides will allow you to cut that time in half. Using guides, such as Dugi's Ultimate WoW guide, players average around 7-8 days to ding 85. Of course, this depends on your skill level and how familiar you are with the game.
Now let's take a deeper look at Dugi's leveling guide:
Dugis Leveling Guide Pros
I'm not going to bore you with the features of Dugi's leveling guide. You can simply go to the official website and see for yourself.
Makes leveling so much easier and more fun – Pretty much every single user has been satisfied with Dugi's leveling guide. It makes leveling so easy. Once you start using this guide, you won't be able to go back and level without one.
Fast updates – the team is working around to clock to fix bugs and constant add new updates to their leveling guide
Talent guides – Dugi's leveling guide comes with a bonus talent guide, which helps you choose the best talent spec for each class.
Most bang for your buck -The Horde and Alliance Package each cost $30, which is the cheapest out of the top Cataclysm leveling guides (along with Zygors and Boosters). You can get both of the guides as a bundle for $50.
Free trial – Most people purchase Dugi's leveling guide using their free trial, which helps you rapidly level from 1-20.
60 day money back guarantee – You have the option of testing the guide for 60 days and getting a full refund if you decide you don't like it for whatever reason.
Cons
No more gold guide– they used to have a bonus gold guide that came with the leveling guide, but I don't know why they don't offer it anymore.
Bugs here and there– I have noticed it's slightly buggier than Zygors, but the support is pretty fast fixing bugs, so that shouldn't be a big deal.
Overall
Dugi's WoW leveling guide is a great World of Warcraft leveling guide. It does exactly what it claims and cuts your leveling time in HALF. While Zygor's WoW leveling guide may run a tiny bit more smoothly, Dugi's Ultimate WoW Guide is still an excellent investment since it's less expensive and works great.
Conclusion: If you're on a budget and want to save massive amounts of time and frustration while leveling your WoW character, Dugi's leveling guide is definitely your best choice.