Booster Leveling Guide – Reviewed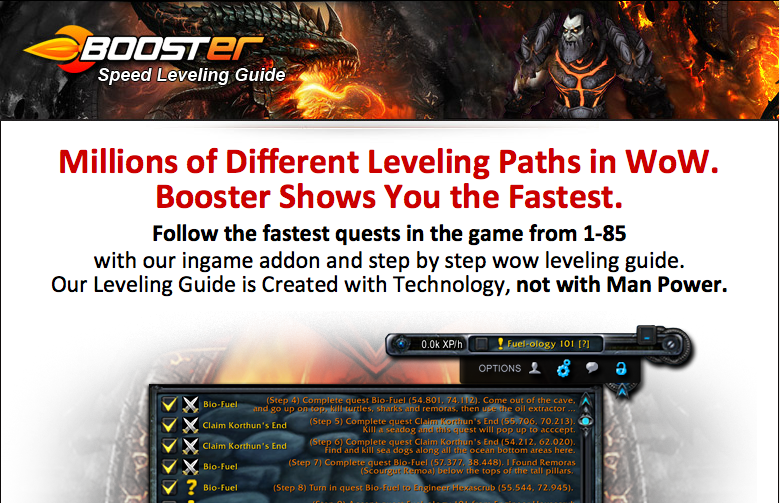 The Booster Leveling Guide makes some bold claims– namely that it's the fastest leveling guide ever created. Great. But the thing is, pretty much every singe leveling guide makes that claim. So we decided to put the Booster Speed Leveling Guide to the test to see if it's actually the "fastest WoW leveling guide ever created".
Booster Leveling Package Review
The Booster Leveling Guide is a complete ingame 1-85 WoW leveling guide that you can get for both the Horde and Alliance. It's basically an addon that you install to World of Warcraft that tells you where to go, what to do, what to pick up, who to kill, etc. It optimizes your quest routes for you, meaning that you are told the fastest, most efficient quests to do so you can ding level 85 asap.
The Booster Leveling Package pretty much like any other in-game addon in that it will save you a TON of time leveling from 1 to 85. Without leveling guides, it takes the average player takes over 20 days to reach 1 to 85. Obviously, the better you are or the longer you've been playing, the faster it will take.
The Booster Leveling Guide shortcuts all of that by cutting your leveling time to 4-7 days of total playing time. Check out this screenshot :
I am a little skeptical that the average WoW player can actually ding 85 in under 5 days. It will most likely take 7-8 days. Regardless, that's still hundreds of hours of gameplay time saved. More hours saved means more time to enjoy endgame raids, dungeons, etc.
Booster Leveling Guide Review – Pros
–       Leveling on steroids– Many WoW players are still using the QuestHelper addon to speed up their leveling. Nothing wrong with this. It's just that paid leveling guides, such as the Booster leveling package are much, much faster. Your total leveling time using Booster's leveling guide will be comparable to established leveling guides such as Zygor's WoW Leveling Guide or Dugi's Leveling Guide.
–       Additional tips – Each quest comes with additional tips from the Booster team to help you complete it easily.
–       Talent and Glyph helper – So key. With out the right leveling spec/glyphs (so many websites recommend the wrong specs), you're going to be adding days to your total leveling time.  This is also the only WoW leveling guide to have the Glyph feature.It's a pretty cool helper that tells you which glyphs to by so you reach 85 as quickly as possible.
–       Easy installation and speedy support – The Booster leveling guide installed on my Mac without any problems. I have also contacted their support team a couple of different times; they always got back to me within a couple of hours. (it's almost as if they don't have lives and just sit around waiting to help people all day 😉
Booster Leveling Guide Review – Cons
–       TomTom navigation – This is not a big deal, but Booster Leveling Guide uses TomTom, a waypoint arrow addon, to tell you where to go. TomTom does have occasional bugs sometimes, so I prefer custom waypoint arrows. Again, not a big deal, just a personal pet peeve.
–       No free trial – The Booster leveling guide doesn't come with a free trial. This would be helpful in evaluating whether or not this guide is right for you. However, they do have a 60 day money back guarantee, so that's sort of like a trial.
Booster Leveling Package Price
The Booster Leveling Guide is currently $37 for either the Alliance or Horde speed leveling guide or $57 for both guides. If you have the money, get the package. No point in getting one of them and re-buying the other one a month later.
Overall
The Booster Leveling Guide is a solid 1-85 leveling guide for anyone who does not want to waste days of mindless grinding trying to reach 85. It's not for everyone though. It's not for players who like to get into storyline and take their time enjoying the game. If that's you, don't get a leveling guide; just play the game and explore at your own pace.
However, if you are new to the game and want to catch up ASAP –OR- leveling an alt and just want to get it over really fast, then I highly recommend the Booster leveling guide.